Yoga Class Near Me in Boca Raton
Have you been searching for yoga classes near me in Boca Raton? Well, your search ends here.
Roses Poses
offers the best yoga experience in Boca Raton and its surrounding areas.
At Roses Poses we believe that yoga should be accessible to all! That's why we've carefully crafted and curated the perfect Boca Raton Yoga experience for both beginner and experienced Yogis. Roses Poses is the number one destination for health-conscious individuals looking to begin their yoga journey or to take it to an all-new level.
Best Boca Raton Yoga Studio
The practice of yoga is a journey into our true self, our true self where freedom, truth, and bliss flow gracefully with each heartbeat,
in each moment, with every breath. Our Boca Raton Yoga studio is bright and beautiful, spacious with high ceilings and natural hardwood floors. Our Studio is a peaceful getaway with ample space to fit a large group of practitioners for our most challenging and popular classes.
The design of our studio is carefully curated to enhance your yoga journey. With spacious interiors and high ceilings, the studio exudes a sense of expansiveness, inviting you to open your heart and mind to the infinite possibilities that lie ahead. The natural hardwood floors provide a firm yet comforting foundation, ensuring that you can move with grace and stability during your practice.
Our studio is not just a place to practice yoga; it's a sacred space where you can find solace from the hustle and bustle of everyday life. As you step into this peaceful getaway, the outside world seems to fade away, and you are transported to a space where you can immerse yourself fully in the present moment, free from distractions and worries.
Our state-of-the-art yoga studio in Boca Raton is equipped with everything you need to enhance your yoga experience. From hanging bars that aid in deepening your stretches to straps and blocks that provide support during challenging poses, we have carefully curated our studio to ensure you have all the tools you need for a fulfilling practice. Our high-quality yoga mats are provided for your comfort and hygiene.
Located in Boca Raton, our studio offers a serene and tranquil ambiance that will help you disconnect from the outside world and fully immerse yourself in your practice. We have designed our space to be a sanctuary where you can escape the stresses of daily life and find peace and balance through yoga.
At Roses Poses, our Boca Raton Yoga classes are challenging but also invigorating. They are designed to relax your mind while strengthening your body. Our Boca Raton Yoga teachers are certified and passionate about their craft. We empower our students to reach and even surpass their yoga goals. Our yoga studio in Boca Raton is equipped with hanging bars, straps, blocks, and mats that will make your Boca Raton yoga experience second to none.
Our Boca Raton Yoga studio is cleaned and sanitized and all classes are held with coving protocols in mind so you can rest assured that your yoga experience in Boca Raton will be a safe one.
Boca Raton Yoga Classes
Explore your yoga practice in our spacious and clean studio in the heart of Boca Raton. Join us for a yoga class and see the difference. At Roses Poses we are passionate about teaching yoga and helping our students achieve their individual yoga goals. Our instructors are here to encourage and guide you as you start or continue your yoga journey. With this focus we have made sure our Boca Raton Yoga Studio offers the best amenities including:
Spacious studio
Small class sizes
Professional yoga blocks
Air-conditioned studio
Clean restrooms
Read our blog on improving concentration through yoga
Boca Raton Florida Yoga Class For All Levels of Practice
Roses Poses Yoga studio in Boca Raton, Florida offers a variety of yoga classes built to suit the needs of our all-level practitioners. Explore more information about our exhilarating classes atBoca Raton's leading Yoga Studio. For those who are new to yoga, our signature variety of classes offer options for students of all levels and fitness goals. We will set you up for success on your first visit, save you time, and allow you to make the most of your first.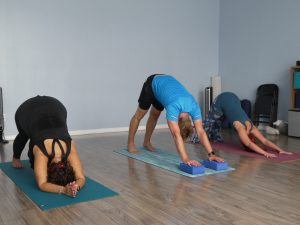 Beginner Yoga Classes in Boca Raton – What To Know Before You Go
Avoid eating for 1-2 hours before class. You will be bending and stretching and we don't want you to get an upset stomach
Wear comfortable clothing that allows you to move freely and without restriction
Mats are available for rent or you can BYO
You will sweat so take along a towel to help keep you dry
Take along a reusable water bottle or you can purchase water at the front
Put your phone on silent so you won't have any distractions during your class
Arrive 5-10 mins before your class so you are ready to go once the instructor starts
Keep an open mind and know that you may not learn a pose on the 1st try. Yoga is a marathon and not a sprint so go at your pace
Advanced Yoga Classes Near Me in Boca Raton
For the advanced Yogi, we have signature classes just for you. Our advanced Boca Raton yoga class classes are the all-natural way to live better through both physical and mental practice. For many of our advanced Boca Raton yoga students, yoga is a 3-6 day per week practice. It complements their workout regime and provides balance to an otherwise hectic schedule.
For our dedicated Boca Raton yoga students, yoga becomes an integral part of their lifestyle, with many attending our classes three to six days a week. We understand that life can be hectic, and our advanced yoga classes offer a sanctuary where you can find respite and peace amid your busy schedule.
Through regular practice, you will notice how yoga complements your existing workout regime, enhancing your physical performance and promoting flexibility, strength, and endurance. Moreover, the mental aspect of yoga plays a vital role in managing stress and promoting relaxation, helping you cope with the demands of daily life with greater ease.
Why Roses Poses Yoga Studio?
Practicing yoga increases your strength and flexibility which leads to fewer muscle and back-related injuries. Yoga is proven to cleanse your body from environmental toxins, increase your energy, improve your sleep, tighten your core, and reach your ideal weight. To book your next yoga class in Boca Raton click below or call us at 561-408-3350.