There are an endless number of yoga videos and tutorials available online, claiming that they'll be able to bring your yoga abilities to the highest level. If you've tried these online classes before, chances are you weren't satisfied with the results. The truth is, there's no better way to learn yoga than in person with a yoga instructor who cares about your results. Roses Poses is the yoga instructor in Lake Worth to go to if you want to see results.
We want to see you learn and grow on your yoga journey. No matter what your experience level is, Roses Poses is open to anyone who wants to engage in yoga. Our yoga instructors have crafted the perfect yoga classes for all experience levels. These classes will teach you new exercises and expand on existing ones. 
If you're looking for a yoga instructor in Lake Worth, Roses Poses wants to invite you with open arms as we get to know each other and dive into the world of yoga. 
The Best Yoga Instructor in Lake Worth
The journey of yoga is more than just becoming more flexible and increasing strength. It's a journey that helps us dive deeper into our true selves and allows us to find peace within. 
Our yoga studio is perfect to do just this. With small class sizes, you'll never feel crowded or overwhelmed. Having ample room allows you to practice exercise with ease and find peace while doing yoga. Our entire studio is bright, beautiful, and spacious. It features high ceilings and natural wood flooring. We wanted to make out the studio as inviting as possible in order to create a space that you feel welcomed and comfortable in. We want stress, anger, sadness, and all other negative emotions to leave as soon as you step foot in our studio. 
Lake Worth Yoga Classes
In order to be a yoga instructor in Lake Worth that people trust, we needed our classes to be something that people would love and want to come back to. The yoga classes our instructors created are meant to be challenging but also invigorating. They were made in order to ease your mind, while also strengthening it, as well as your body. We encourage everyone who enters our yoga studio to attempt everything at least once. 
Our classes are meant for everyone. Never feel discouraged from trying out a new class, even if it seems difficult at first. We understand that it takes time to get to a certain level, so if you can't do a certain exercise, still try to attempt it or try a different one. In time, you'll reach that goal and you can set a new one in the process. 
Our yoga instructors are here to guide and encourage you. They'll never judge or humiliate you in any way. They want to see you grow on your journey with yoga.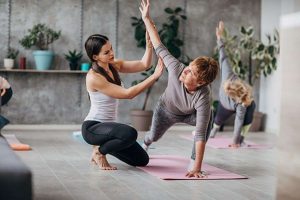 Explore our daily Boynton Beach yoga class schedule
Advanced Yoga Instructor in Lake Worth
For those who have are more experienced with yoga, our instructors have classes and exercises just for you. These classes are sure to expand on your yoga experience and make you even better than you were before. We understand that yoga plays a large role in your life, and we want to make sure you're satisfied with our classes and instructors.
Anyone is welcome to join on more advanced classes. We encourage you to step out of your comfort zone and try something new.
Come Join Roses Poses Today
Yoga is an incredible practice that will have your mind and body feeling better than ever before. Yoga is meant to be a release from the outside stress, which is exactly what Roses Poses wants to achieve. If you're looking for an amazing yoga instructor in Lake Worth, then come visit our studio. If you have any further questions, feel free to contact us through our contact page or call us at 561-408-3350.