Beginner Yoga Classes Haverhill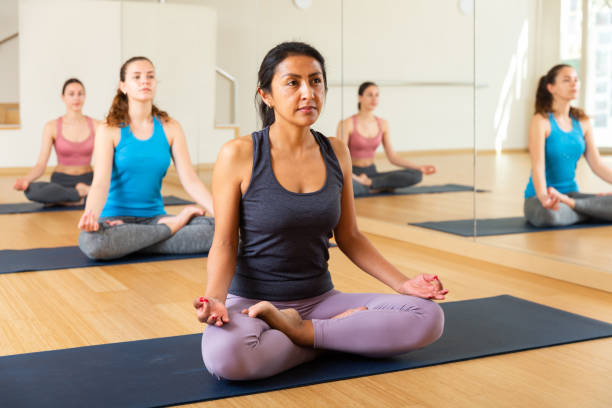 Yoga serves as an incredible practice, nurturing both body and mind while offering a multitude of benefits. It's an experience that everyone should be able to explore. However, stepping into the world of yoga for the first time might seem overwhelming and intimidating. Here at Roses Poses, we're here to assure you that yoga is far from complex. In reality, it's a joyful and easily accessible activity that can seamlessly become a part of your daily routine. This is precisely why we take pride in offering beginner yoga classes in Haverhill, South Florida, tailored explicitly for those who are new to yoga.
We understand that taking those initial steps into yoga can feel daunting, but rest assured, we've got your back. Our beginner yoga classes in Haverhill are meticulously designed to gently guide you through the basics of yoga practice. We'll teach you essential stretches, guide you in understanding proper alignment, and introduce you to fundamental exercises. Roses Poses was founded with a single mission: to make yoga accessible to everyone. So, whether you're a complete newcomer or someone seeking to deepen your practice, our beginner yoga classes provide the ideal starting point.
The Best Yoga Studio in Haverhill
Roses Poses is dedicated to creating an inclusive and welcoming community that embraces individuals from all walks of life. Our collection of beginner yoga sessions in Haverhill is carefully crafted to cater to individuals of various age groups, body types, and fitness backgrounds. It doesn't matter if you're just starting out or on a quest to refine your current practice; our studio provides a space free from judgment, where you can explore and grow. Join hands with fellow yoga enthusiasts who share your commitment to well-being, and embark on a voyage of self-discovery and togetherness. Discover the schedule for our daily Haverhill yoga classes right here.
At Roses Poses, we present an array of yoga class options in Haverhill, tailored to cater to a spectrum of expertise levels ranging from beginners to seasoned practitioners. Whether you're a complete novice or eager to stretch your limits, our classes are thoughtfully designed to accommodate your preferences. Our core belief centers around yoga as an individual odyssey, and we extend a warm invitation to novices to venture into more advanced classes within a nurturing and non-critical environment.
Haverhill Beginner Yoga Classes
Experience the ultimate yoga sanctuary at Roses Poses! Join us for rejuvenating beginner yoga classes in the heart of Delray Beach. Our main aim is to witness every person stepping into our studio flourish and accomplish their objectives through the life-changing influence of yoga. At Roses Poses, our dedicated crew is devoted to offering guidance and encouragement to aid you in triumphing on your yoga expedition. To ensure your complete ease and elevate your yoga experience, our facility offers the following attributes:
Expansive and serene spaces designed to foster a peaceful ambiance for your practice.

Small class sizes to ensure individualized attention and tailored guidance.

Premium-quality yoga blocks to facilitate your exploration and advancement in poses.

A fully climate-controlled environment to maintain an ideal temperature for your comfort.

Pristine and well-kept restroom amenities for your convenience.
A Haverhill Yoga Studio For All
Roses Poses, a renowned yoga studio nestled in the heart of Delray Beach, warmly welcomes individuals of all backgrounds, from those taking their first steps into yoga to seasoned practitioners seeking growth. Our array of classes is thoughtfully designed to accommodate various skill levels, making it accessible for beginners and experienced yogis alike. Should you be new to the world of yoga, find solace in the fact that Roses Poses thrives on creating an all-embracing and nurturing atmosphere. We value each individual's unique journey and progression, recognizing that every yogi's path unfolds at its own rhythm. Embrace the chance to evolve and advance through regular practice, enveloped by the unwavering camaraderie within the Roses Poses community.
Some Tips For Starting
We want your first-time yoga experience to be exceptional. Here are some essential tips to ensure you start on the right path to beginner yoga bliss in Haverhill:
Nourish your body: It's important to avoid eating 1-2 hours before class to prevent any discomfort while stretching and bending during your session.

Comfort is key: Choose clothing that allows for unrestricted movement, ensuring maximum comfort throughout your practice.

Mat matters: If you don't have your own yoga mat, don't worry! We're delighted to provide you with a comfortable mat to borrow for your session.

Stay hydrated: As you embark on your yoga journey, it's advisable to bring a generous water bottle to replenish your fluids, especially since you'll likely be sweating during the class.

Embrace mindfulness: To fully immerse yourself in the practice, we kindly ask that you silence your phone, enabling you to focus on your mind-body connection.

Time matters: Arriving at least 5 minutes early allows you to settle in, prepare yourself mentally, and connect with your fellow yogis before the class begins.

Embrace the learning process: Remember, it's perfectly normal if you don't master a pose on your first attempt. Yoga is about progress, not perfection. With practice, dedication, and guidance from our experienced instructors, you'll soon find yourself gracefully flowing through the poses.
Advanced Yoga Classes in Haverhill
As the go-to yoga destination in Delray Beach, we cater to the needs of both beginners and seasoned practitioners. We understand the importance of offering tailored experiences for those who have been dedicating themselves to yoga for a significant period. At Roses Poses, we pride ourselves on delivering sessions that are geared towards your expertise level. Our classes provide a unique blend of challenges and empowerment, ensuring that you continue to reach new heights in your yoga journey. Led by our expert instructors, these classes combine different techniques to create a comprehensive and invigorating practice.
Why Roses Poses?
Yoga is a fantastic way to increase your strength and flexibility while also finding inner peace and relaxation. It's been proven that yoga is one of the best ways to cleanse your body, increase energy and production, improve sleep patterns, tighten your core, and reach your ideal weight. Why not do this with the best yoga studio in Haverhill? To book your next class, stop by our studio or give us a call at 561-408-3350