Beginner Yoga Classes Delray Beach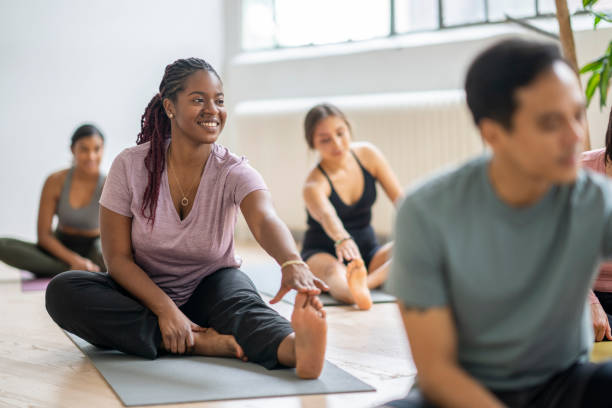 Yoga is an incredible practice that nurtures both the body and mind, offering a multitude of benefits. It's an experience that everyone should have the opportunity to explore. However, for many, taking the first step into the world of yoga can feel overwhelming and intimidating. At Roses Poses, we're here to assure you that yoga is far from being a complex endeavor. In fact, it's a joyful and accessible activity that can easily become part of your lifestyle. That's why we proudly provide beginner yoga classes in Delray Beach, tailored specifically for those who are new to yoga.
We understand that taking those first steps into yoga can be daunting, but don't worry, we've got your back. Our beginner yoga classes in Delray Beach are designed to gently guide you through the basics of yoga practice. We'll teach you essential stretches, help you understand proper alignment, and introduce you to fundamental exercises. Roses Poses was created with one mission in mind: to make yoga accessible to all. So, whether you're a total newbie or looking to deepen your practice, our beginner yoga classes are the perfect starting point.
The Best Yoga Studio in Delray Beach
Roses Poses believes in fostering an inclusive and accepting community that welcomes individuals from all walks of life. Our beginner yoga classes in Delray Beach are designed to be accessible to people of diverse age groups, body shapes, and fitness backgrounds. It doesn't matter if you're a beginner or aiming to enhance your existing practice; our studio offers a judgment-free environment for exploration and personal development. Embrace the opportunity to connect with fellow yoga enthusiasts who share your dedication to wellness and embark on a journey of self-exploration and unity. Find Our Daily Delray Beach Yoga Class Schedule Here.
Roses Poses offers a wide range of yoga classes in Delray Beach, catering to all skill levels from beginners to advanced practitioners. Whether you are new to yoga or looking to challenge yourself, our classes are designed to accommodate your needs. We believe that yoga is a personal journey, and we encourage beginners to explore and try more advanced classes in a supportive and non-judgmental environment.
Delray Beach Beginner Yoga Classes
Experience the yoga studio of your dreams at Roses Poses! Join us for our invigorating beginner yoga classes in Delray Beach. Our primary objective is to witness every individual who walks through our doors thrive and achieve their goals through the transformative power of yoga. At Roses Poses, our dedicated team is committed to providing guidance and support to help you succeed on your yoga journey. To ensure your utmost comfort and enhance your yoga practice, our studio boasts the following features:
Spacious and serene rooms that create a tranquil atmosphere for your practice.

Intimate class sizes that allow for personalized attention and tailored instruction.

Professional-grade yoga blocks to assist you in exploring and deepening your poses.

A fully air-conditioned studio to maintain an optimal temperature for your comfort.

Immaculate and well-maintained restroom facilities for your convenience
A Delray Beach Yoga Studio For All
Roses Poses yoga studio in Delray Beach is the perfect haven for individuals of all levels, whether you are a beginner or an experienced yogi. Our diverse range of classes caters to varying degrees of difficulty, ensuring that there's a suitable class for everyone. If you're new to yoga, rest assured that Roses Poses fosters an inclusive and non-judgmental environment. You need not worry about being compared to seasoned practitioners as we understand that everyone embarks on their yoga journey at their own pace. Embrace the opportunity to grow and improve with consistent practice, surrounded by a supportive community at Roses Poses.
Some Tips For Starting
We want your first-time yoga experience to be exceptional. Here are some essential tips to ensure you start on the right path to beginner yoga bliss in Delray Beach:
Nourish your body: It's important to avoid eating 1-2 hours before class to prevent any discomfort while stretching and bending during your session.

Comfort is key: Choose clothing that allows for unrestricted movement, ensuring maximum comfort throughout your practice.

Mat matters: If you don't have your own yoga mat, don't worry! We're delighted to provide you with a comfortable mat to borrow for your session.

Stay hydrated: As you embark on your yoga journey, it's advisable to bring a generous water bottle to replenish your fluids, especially since you'll likely be sweating during the class.

Embrace mindfulness: To fully immerse yourself in the practice, we kindly ask that you silence your phone, enabling you to focus on your mind-body connection.

Time matters: Arriving at least 5 minutes early allows you to settle in, prepare yourself mentally, and connect with your fellow yogis before the class begins.

Embrace the learning process: Remember, it's perfectly normal if you don't master a pose on your first attempt. Yoga is about progress, not perfection. With practice, dedication, and guidance from our experienced instructors, you'll soon find yourself gracefully flowing through the poses.
Advanced Yoga Classes in Delray Beach
For all you seasoned yogis out there, Roses Poses in Delray Beach has got you covered with our specially designed classes. We understand that you've been honing your yoga skills for quite some time, and we're here to help you reach new heights. With our thoughtfully curated schedule, we offer a variety of sessions that aim to challenge and empower you on your yoga path. Our expert instructors will guide you through a fusion of exercises, ensuring a holistic and invigorating practice.
Why Roses Poses?
Yoga is a fantastic way to increase your strength and flexibility while also finding inner peace and relaxation. It's been proven that yoga is one of the best ways to cleanse your body, increase energy and production, improve sleep patterns, tighten your core, and reach your ideal weight. Why not do this with the best yoga studio in Delray Beach? To book your next class, stop by our studio or give us a call at 561-408-3350